OUR STORY
Obakki is a purpose-led lifestyle brand that connects people through modern design.  Everything we curate is handcrafted and produced in partnership with our network of world-class artisans—real people making products that bring meaning and connection to your home.

At Obakki, our artisan partners are part of our extensive global family. We're in touch on a regular basis and their quality of life—and ability to sustain themselves and their communities—will always be our top priority as a company. Their happiness, health, and financial independence all matter to us. By respecting the creativity and technique of every artisan, Obakki helps to give communities a stronger sense of cultural independence and pride.


WHAT DO WE BELIEVE?
We believe in slow design. We've connected with artisan groups from around the globe to preserve and honour traditional artistry, and we love the idea of limited edition, small-batch homewares that can be admired for a very long time.

We believe in knowing the origin of the products we buy, as well as the impact of our consumption—not only on the environment, but also on the communities and individuals that create them.

From homewares created in partnership with like-minded co-ops to goods sourced from global artisans who share our ethos, every Obakki product reflects our values of sustainability, traceability and ethical production.
ARTISAN MADE

Handcrafted in partnership with world-class artisans—real people making products that bring meaning and connection to your home.

SUSTAINABLE PARTNERSHIPS

By personally traveling to each country and using only local materials, we establish sustainable relationships with our artisans.

SMALL BATCH

While protecting traditional methods, each item is handcrafted in limited quantities to ensure its sustainability and uniqueness.
WHAT WE DO IS NEVER CHARITY
We source ethical, high-quality products from traditional artisans and rural co-ops that are experts in their given fields. These partnerships offer good trading practices while providing creators with global market access.

We have authentic connections with all of our producers—we know them, their families and their communities.

Through these partnerships, we ensure sustainability, integrity, and respect while helping to preserve, promote and protect indigenous artisan craft.
1. LONG-TERM PARTNERSHIPS ARE CREATED IN THE LOCAL COUNTRY

By travelling to each region and using local materials, we establish sustainable relationships with our artisan partners. Every item is small batch to ensure its sustainability and uniqueness.

2. WE ENSURE THERE IS A LOCAL MARKET ESTABLISHED FOR ARTISANS FIRST

Our artisans' future security is important to us, therefore we help to facilitate a sustainable local livelihood first, ensuring our artisans are not solely dependent on us. 

3. WE CO-CREATE PRODUCTS THAT RESPECTS + PRESERVES TRADITION

We work directly with our artisans to create modern products while respecting, preserving, and protecting traditional artistry.  We embrace slow design and artisanal production.

4. WE FOLLOW THE SUPPLY CHAIN TO ETHICALLY TRACE EVERY PRODUCT

We follow the complete supply chain and analyze the impact, ethically tracing each product from concept to completion to protect the environment and our artisan partners.

5. WE ENSURE FAIR + PROMPT PAYMENT WITH ALL OF OUR ARTISANS

We pay fairly and promptly, advancing funds early and offering sampling budgets.  We respect our artisans and implement fair trade standards at every stage of our partnership.

6. WE INVEST BACK INTO COMMUNITY DEVELOPMENT WHEN NEEDED

We invest in community development when needed through our Obakki Foundation programs so our partners can improve their local communities through our partnerships.
HOW MUCH DO WE PAY OUR ARTISANS?

Rather than paying wages, we purchase products directly from our artisan partners at a price determined by them (and often higher than the local market value). Rather than buying at western prices, which can create dependence that hinders sustainability, we reinvest our profits back into expanding our artisan partners' businesses and into their communities when needed through our Obakki Foundation development programs.

HOW DO WE ENSURE SUSTAINABILITY?

Obakki founder Treana Peake meets with each artisan partner, fostering genuine relationships around the globe to ensure that the highest levels of dignity, respect and social responsibility are upheld as we work with these vital communities. Our  connection with their artisan partners allows Obakki to trace each product from concept to completion, ensuring that the highest level of sustainability is maintained and that no damage is done to the environment.


OUR IMPACT
With every Obakki purchase, consumers are supporting meaningful income opportunities for artisans, their families, and their communities. Obakki provides a platform for these talented makers to share their craft with a global audience.

Obakki's main mission is to support and expand our artisan partnerships, and to fund development work through the Obakki Foundation (the brand's philanthropic counterpart). Focused on providing clean water access and livelihood initiatives in Africa, to date the Obakki Foundation has helped over 3 million people.
LEARN MORE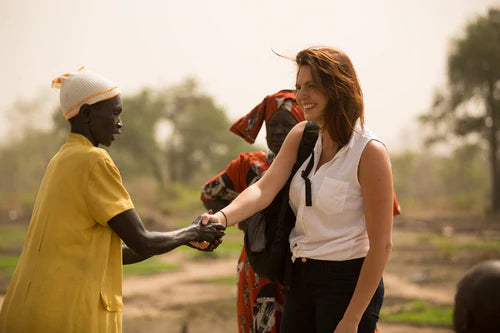 OUR FOUNDER
Treana Peake's passion for travel and eye for design, combined with her lifelong dedication to making a difference in the world, inspired her to launch Obakki in 2005. The Obakki Foundation, its philanthropic counterpart, followed shortly thereafter.

For decades she has travelled the globe, always on the lookout for opportunities to wander off the beaten path to connect with people and their stories.
READ MORE
OUR JOURNAL
Our journal is a space for connection, exploration, and community. We've curated a collection of stories from our artisans partners—their process, their culture, their craft, as well as ways to help you live a more intentional life.

Intentional living involves slowing down to be mindful of the choices we're making, and understanding the impact that they have on the environment and the community around us. Whether it's the purchases we make, how we spend our time or the relationships we keep, the things that make up our lives should reflect our beliefs and values. We should know where our products come from, who made them and what impact our consumption has on the world as a whole.